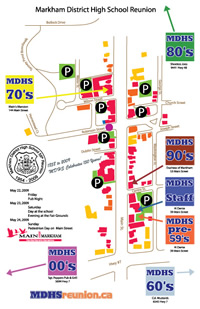 "Our tradition continues on main street"
Friday may 22nd, 2009
Advance Registration 7:00 pm - 9:00 pm
Advance registration for those people who want to pick up their package before Saturday morning. At the Go Train Station (across from the Firestation), pick up your registration packages, and meet with old friends. Then, continue your reunion at one of the designated fine restaurants or pubs on Main St or Hwy7.
Download the map (PDF, 716KB)

Come meet your fellow students & teachers at the following local pubs!
The Pubs and Restaurant list is provided as suggested locations for decade groups to meet. These businesses are independently owned and operated, and are not under the management of the reunion committee. However we are making arrangements with each pub to ensure they can accommodate our groups.
Angus Glen will host the after golf pub party and overflow for all other decades who run out of room. Last time the '70s and '80s both exceeded the pub capacities. Angus Glen has a great pub facility and they are more than happy to accommodate our groups. Angus Glen is located at 10080 Kennedy Rd., North-West corner of Kennedy and Major Mac.
List of additional eateries and pubs:
Artisan Pub
48 Main St. North
905-472-4439

Famous Souvlaki
8 Washington Street
905-472-6487

Folco's Restaurant
42 Main St.
905-472-6336

Lemon Bistro
76 Main St. North
905-209-8513

Main's Mansion Restaurant & Bar
144 Main Street North
905-472-1114

Mr. Hungarian Restaurant
144 Main St. N
905-201-9902

Tsukiji Sushi Village
58 Main St. North
905-201-6288

Uncle Joe's Family Restaurant
124 Main St. North
905-294-2249